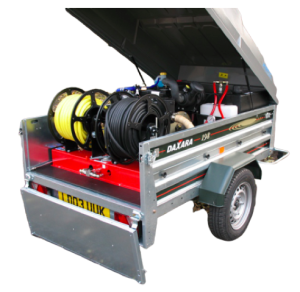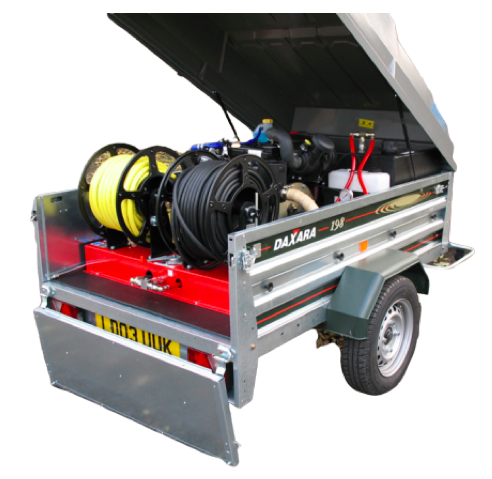 The pump is a triplex ceramic plunger, positive displacement, self-priming with oil bath splash lubrication and alloy-bronze head. Anti-freeze facility provides full unit protection against frost damage.
The transmission is a close coupled gearbox.; the engine is the Isuzu 3CB1 3cyl Water Cooled diesel engine with 12 volt electric start, variable speed. It is fitted with automatic shut-down on low oil pressure and high water temperature.
The pump and engine are trailer mounted and fitted with a 250 ltr (50 gallon) fabricated polypropylene baffled water tank, filter, drain valve, 19mm ballcock and stainless diverter valve. The unit is mounted in an enclosed two wheeled trailer with polypropylene floor and secure locking lid.
The whole unit has been designed to offer reliability for continuous operation, long life and easy maintenance. Easy to use because we have grouped the controls: throttle control, key switch start and stop, pressure gauge, hour counter and stainless steel diverter valve are all to hand.
Overall specifications:
60 metres capacity high pressure delivery hose reel with hand wind/rewind.

60 metres high pressure delivery hose.

Low pressure inlet hose reel.

25 metres of inlet hose.

Dry-Shut Gun with 1 x Fan and 1 x Straight Jets.

2 x 1/2″ Standard Drain Jets.

25 ft Mini Jet Kit.

Options:




– 28mm spinning jet (for clearing fat) 




– Longer Hoses to suit




– Special nozzles for cutting through blockages separately priced

Dimensions:




– Height: 1.35m, Width: 1.60m, Length: 2.80m




– Weight: 580kg. Add 250kgs when water tank is full (50 gallons)

Performance:




3000psi @ 9.1gpm

Prices Ex Works:




£10,950.00

Fitting: Included

Availabilty: 6 to 8 Weeks

Terms: 30% with order, 70% on collection by Bankers Draft

VAT: Will be added to the above prices at the current rate

Specification subject to change

Petrol version available