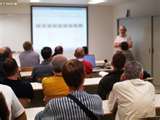 Training courses are normally held at your own place of work or in venues close to your workplace. Depending upon the specific courses requested, groups of 2 to 8 operatives are usually trained at the same time, with courses lasting between 1 & 2 days.
Most clients prefer to have the Safety Awareness Course together with the other practical modules of their choice run on consecutive days. However, if this is not posible we will endevour to fit the courses with your schedule.
You can discuss your requirements with Roy Dykes who will be happy to advise you.
After achieving the Water Jetting Association (WJA) standards, and after payment has been received for the courses, the certificates & photocards are forwarded to you. Please expect around 1 to 2 weeks for the administration and registration process to take place.
To book a course or check on course information, please contact Roy Dykes.
The contact details are here. 
To check course dates, venues & book online, click here.