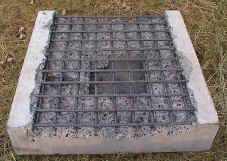 This course is designed to offer the trainee both classroom based theoretical tuition together with practical instruction in the safe & efficient use of high pressure water jetting equipment & accessories for various hydro demolition applications. A 20 question questionnaire is included which must be successfully completed by the trainee.
Once the certificate is issued to those successful trainees who reach the required standards, it does NOT need renewing, however, to be valid it MUST be accompanied by an in-date Safety Awareness Certificate and Photocard.
The left-hand image illustrates concrete that has been cut away using high pressure water jets, thus exposing the reinforcing rods.
Please visit the Book Courses page to book training courses.
Go back to the Safety Awareness page course to review.